'Shag an Archaeologist Day 2011' is an online project to help convince the general public to have sex with an archaeologist on  Saturday July 23rd 2011.  This date coincides with the Festival of British Archaeology, which runs from 16th – 31st July 2011.
Archaeologists taking part in the project will document their shag through photographs, videos and written blog posts. These will then be collected on a special facebook page (Click here), which will provide a glimpse into the sex lives of people working in archaeology, from archaeological excavations to laboratories, universities, community archaeology groups, education services, museums and offices.
How it all began
'Shag an Archaeologist Day 2011' was born after two PhD students – Jimbo Jonkins and Earnest Stu – stumbled home from the TAG conference disco having failed to get laid for the third consecutive year.
'I was lying in bed taking care of myself whist wondering what ditches mean,' said Jimbo (left), 'and I heard all this shouting and commotion downstairs.'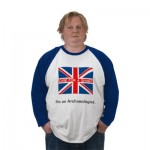 'That was me,' piped up Stu, earnestly (right). 'I'd just clicked on a bunch of really cool facebook event invites for things like 'World Diggers Day' and 'A Day of Archaeology 2011' and I suddenly realised – Jesus! If all it takes is a few thumbs up 'Likes' to raise archaeology's woeful plight in international consciousness, maybe it could sort out my and Jimbo's dry spell too!'
How to get involved
You don't have to be a British archaeologist to get well and truly shagged (though it certainly helps!). 'Shag an Archaeologist Day' is open to everyone working or volunteering in any aspect of archaeology from anywhere in the world – and even those who used to be archaeologists but now have proper jobs.
First things first – you've gotta be innit to winnit, so join the facebook page by clicking 'like.' Second things second, invite all your friends to like it too – not just archaeologists either. Maybe that high school-crush you facebook friended (but haven't actually seen or talked to for 19 years) might pony up with a mercy shag for old times sakes. We certainly hope so!
Merchandise!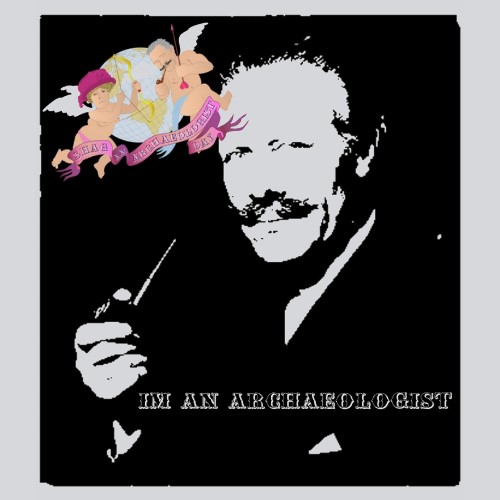 Then again, don't leave things to chance. According to Stu and Jimbo, the only sure fire way to guarantee a shag on 23rd July, is to buy some merchandise.
'We've got 10,000 of these awesome T-shirts printed, in every size, shape and colour possible – women's, men's – you name it,' said Stu, 'we've got it!'
'And if you buy one of our T-shirts,' continued Jimbo, 'and wear it on Saturday 23rd July for 24 hours straight, we absolutely guarantee you a shag, even if we have to come round to your house and do it ourselves.'
Well you can't say fairer than that.
And that's why diggingthedirt.com is throwing it's social media savvy and website weight behind this valiant effort to get the archaeology profession laid. If you want to buy a t-shirt from the boys in readiness for July's party, keep scrolling down for some fresh diggings from our fashion emporium!
Shag an Archaeologist Day 2011:
Let's Do It!
Fashion Must-Have #1 – Close Shave
Failure to prepare is preparing to fail! This shirt for those who pay close attention to detail. Nuts. Quite literally.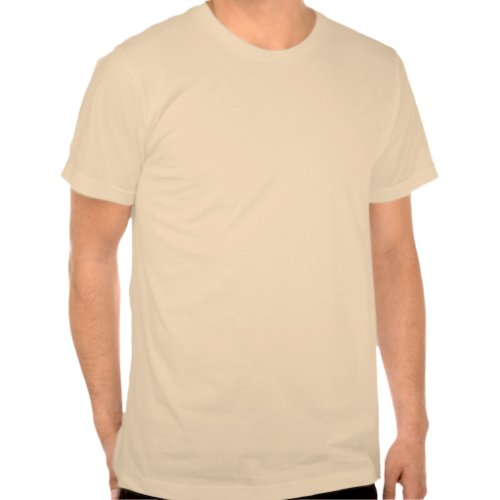 Shag T-Shirt – Underwhelmed by Diggingthedirt
Fashion Must-Have #2 – less nagging more shagging!
At long last – conclusive proof that less is more! For the time conscious archaeologist – places to be, people to do!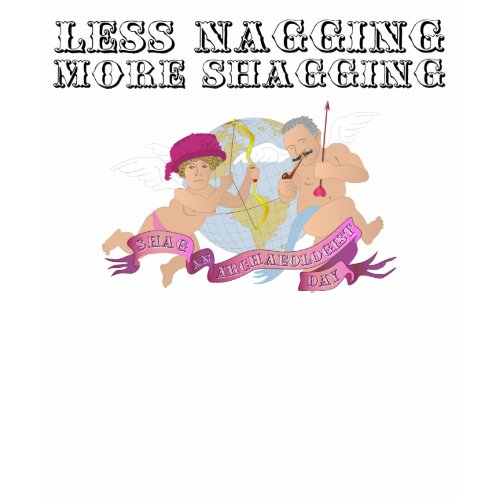 Less Nagging More Shagging by Diggingthedirt
Fashion Must-Have #3 – Fancy a Shag?
The original, and still the best: let the world know you're on for it, with this shag-happy T-Shirt!
Fashion Must-Have #4 – Let's Do It!
Strictly for shaggers with a positive mental attitude, this slogan's so catchy it's almost Presidential. Get in!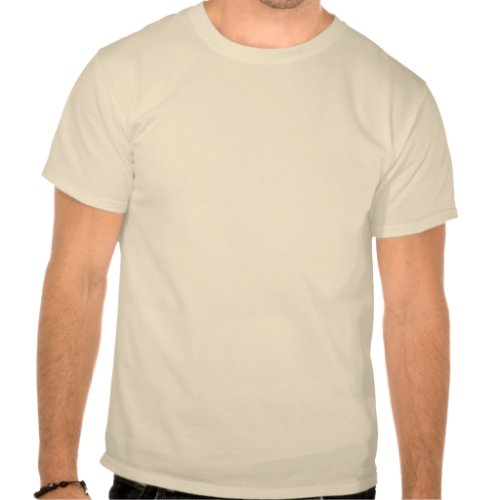 Let's Do It! by Diggingthedirt
Fashion Must-Have #5 – Lousy Shag
Personally, we've never had any complaints, but that's not ruling out the possibility….
Fashion Must-Have #6 – I Heart
Do you 'Heart' shagging archaeologists? Then let the world know, with this T-Shirt specially designed for the romantically inclined. Lovely!

Fashion Must-Have #8- Monty's Shag Shirt
'Archaeologists shag people, not things,' said Mortimer Wheeler, and who are we to argue? This T-Shirt is guaranteed to improve your chances in the shag stakes by at least 2.5%. The last word in archaeological fashion must-haves.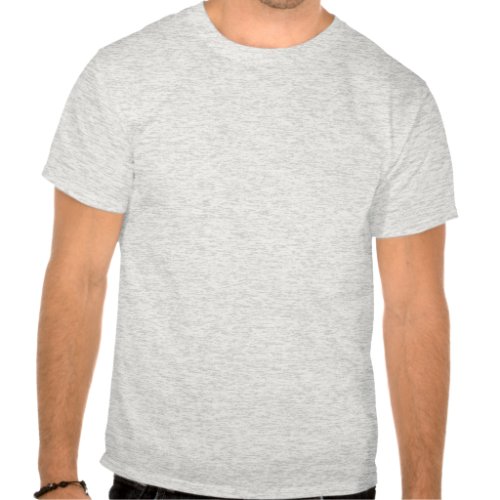 Monty's Shag Shirt by Diggingthedirt
If you like any of the styles above, just click through on the links to go straigt through to our fashion emporium. All designs are available in a range of styles and colours, and can be delivered anywhere in the world – from as little as £10.50 excluding postage.
Get your laughing gear round that!
Facebook page here…
Fashion emporium here…
And more shagadelic goodies here…
Twitter Hash Tag: #shagarch