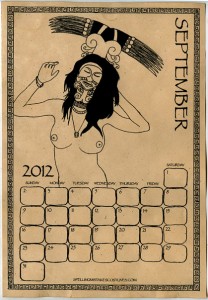 Keep abreast of Armageddon this year with this salaciously saucy topless Mayan Calendar!
Tastefully posed by the Yaxha Pre-Columbian Post-Classical Period Women's Institute, each month gives you two new reasons to get up in the morning (in spite of everything!).
In the words of the Amazons.com:
"This topless version of the Mayan calendar is sure to get your heart racing, just before it is torn from your chest & offered to the gods by a Mayan priest. Includes sizzling swimwear shots of barely legal virgins just before they're ritually sacrificed to help appease Acan's wrath and promise a fruitful harvest.

Printed on genuine coffee stained paper, assembled by the weathered hands of a bearded man in a windowless room and tied together with bits of twine. Get yours before time runs out."
Click HERE to buy – mild satisfaction guaranteed!