Let's begin with the parable of Pablo Picasso's dinner…
Picasso, or so the story goes, was sitting in a Paris café when an admirer approached from a neighbouring table and asked for a quick sketch on the back of a napkin. Picasso politely agreed, swiftly executed the work, and handed it back — but not before asking for an eye-watering amount of money.
The admirer was understandably shocked: "How can you ask for so much? It barely took you a minute to draw!"
"On the contrary," Picasso replied, "It took me over 40 years"
So what's a crap drawing of a horse without any legs got to do with anything? There's a spat currently running on BAJR – the diggers website forum – following rumours that a county council archaeology department is insisting that only professionally accredited archaeology companies (members of the Institute for Archaeologists Registered Organisation Scheme) are allowed to undertake development-led archaeology in their territory.
Outsiders to our discipline might be surprised to find that rather than welcome these moves, the overwhelming consensus on the forum is that such a restriction is a bad thing. Head honcho at BAJR, David Connolly – the Che Guevara of British Archaeology – recently took this line in an impassioned piece for Antiquity. Advocating (and practicing) a bottom-up archaeology 'for the people by the people,' the root problem according to Connolly can only be tackled through inclusivity. Regulation is the enemy because "if the public loses interest in its past due to marginalisation, who will be left to speak up for archaeology when bulldozers and concrete literally obliterate our past?"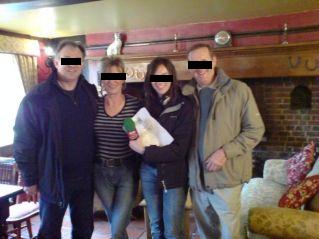 Diametrically opposed in politics, but in complete agreement over the 'problem' of regulation, comes right-wing firebrand Andrew Selkirk, Editor-in Chief of Current Archaeology and champion of the independent amateur archaeologist. Selkirk wrote a short pamphlet in 1997 called 'Who Owns The Past: A Grass Roots Critique of Heritage Policy' (Adam Smith Institute). Rallying against an 'artificial' heritage market created through planning policy guidance that only serves to distance archaeology from it's natural support base (the independent amateur tradition), he argues for a free market where amateurs undertake rescue archaeology as part of a 'leisure economy.'
Though they would be loath to admit it, from the left and from the right there exists a coalition of opposition against a perceived professional elite who threaten to take ownership of a past that belongs to everyone. That elite may or may not exist – but lets follow the logic here, and see where it leads a discipline dependent on developer funding.
Selkirk expands on what this brave new world may look like in the following passage:
"Professional archaeology often involves an element of prostitution: a professional archaeologist is rarely able to do his own thing. All too often, professional archaeologists end up either working for developers, or as planners, shuffling planning applications in planning offices and rarely seeing any real archaeology from one year to the next. However if an amateur archaeologist becomes a chartered accountant, the position could be reversed. It should not be beyond the bounds of possibility to set up in some attractive small town, and so arrange your life that you only work 4 days a week or 8 months in the year and spend more time doing archaeology than any professional archaeologist. And what is more, you will be able to choose archaeology – and you will earn more from accountancy than you ever would from archaeology." (P22)
An imaginary world of mildly offensive elves and unicorns, right?
Wrong.
With Historic Environment protection being hollowed out in favour of a localism agenda, withdrawal of grant-in-aid and cuts to frontline local authority posts, there is no certainty that current funding models will continue in their present form. At the recent Mortimer debate, Councillor Alan Melton of Bunny Hugger infamy, provided three concrete examples of how growing the economy is incompatible with expensive archaeological work: the Neal Wade Community College (six figure project cost); a small private development in Wimblington entailing £9,000 of excavation, plus a further £12,000 for Post-Excavation; Chatteris Parish council who were charged £1,200 for archaeologists to monitor the installation of some new swings.
Andrew Selkirk's solution continued in his previous vein, and was published in Current Archaeology in November:
"The second of those two cases both involve small-scale development that could have been undertaken by local amateur archaeologists, providing that the developers were willing to have the work undertaken at weekends, and to a possibly irregular time-table… Could not perhaps some stipulation be introduced that in the case of small developments, developers should be advised that they have the option of calling on local amateurs to do the work for free?"
And it's already happening. A recent review of council planning submissions turned up this gem of a watching brief report – a development led project that would under normal circumstances be undertaken by a professional, completed for a 10th of the cost by a local amateur group. To the archaeological refuseniks that don't believe in barring the market to all but Registered Organisations or suitably qualified and experienced individuals, read this report carefully [HERE], and weigh up your future.
Call it a product of recession, call it a lack of direction; call it anything you like, just so long as you call it: diluting archaeology's professional status devalues our skills, experience and contribution to knowledge.
It's as simple as that.
Follow the debate on BAJRFed HERE…