Are you are still wondering what to give that special someone for Christmas this year?
Are you sick and tired of giving and receiving the same old tat, year in year out?
Then fear not, dear consumer, because help is at hand.
Diggingthedirt have teamed up with the NSPCA (National Society for the Prevention of Cruelty to Archaeologists) to bring you a gift which captures the essence of Christmas – the chance to sponsor a vulnerable archaeologist desperate for your help!
Make a difference – and give the gift of joy!
Simply by clicking the donate button below, you can give the gift of joy to an archaeologist on behalf of a friend, family member or colleague. In return for just £2 a month (less than 7p a day) your sponsored archaeologist will blog relentlessly about how crap the pay and conditions are, how shite the site is, which ejit's digging which feature wrong, how the project manager doesn't know his arse from his elbow, how the site they were working on before was so much better, who's shagging who, who's not shagging who, who wants to shag who, or who's shagging who behind who's back. And we have three different breeds for you to choose from: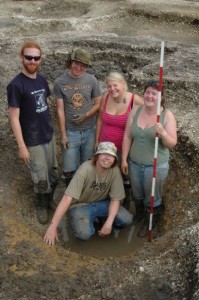 Student Archaeologists
The perfect gift for your nephews or nieces – their very own baby archaeologist!  Sponsor a gorgeous little baby archaeologist as it trains to become a proper real life archaeologist! For just £2 a month we will keep you up to date with your archaeologist's progress, we'll send regular updates and photos of your archaeologist as it grows up, as well as news about all its latest adventures! Warning: under no circumstances whatsoever should baby archaeologists be fed after midnight. And keep them away from water!
Multi-Purpose Archaeologists
Thousands of multi-purpose archaeologists all over the world face real challenges each and every day. They may be abused by project managers, exploited by companies, living in bed and breakfasts, struggling with alcohol and entirely dependent on crisps.  One in three archaeologists in the UK must make do without basic essentials like mulberry handbags and designer cufflinks. Your gift of just £2 a month will mean they no longer have to perform happy ending massages for Eastern European businessmen.
Project Managers
Scumbags. Don't give 'em a dime.
If like us, you believe in all archaeologists, no matter whom they are or what they have been through, then your support is urgently needed.
Archaeologists around the world face real challenges, and are desperate for someone who will help turn their lives around. In most cases they have no one else to turn to – except the NSPCA – and now you.
As a Diggingthedirt archaeologist sponsor you'll make a real difference to a vulnerable archaeologist who is desperate for your help. Please, please, please let as many people know about this worthy cause as possible, and join the NSPCA facebook group HERE. Never forget and always remember: