What's a Grecian Urn? Frankly f***all these days, but it used to be about 5 Euros an hour on average.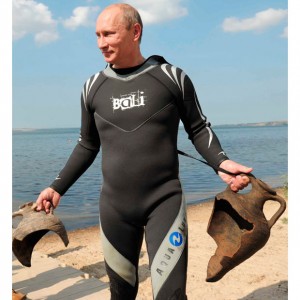 All the more reason to celebrate August's Employee of the Month – Vladimir Putin – who's summer holiday trip was spent single-handedly rescuing priceless artefacts from Davey Jones' Locker.
Vladimir Putin – we salute you! – and hereby award you 'Employee of the Month' – August 2011.
Who gives a toss whether he filled out a context sheet. Archaeology plc can only benefit from his sort of star dust, and we are digging his shit!
All suggestions for next months winner – stick em in the scribble box down bellow.