Ever since Gordon Childe attempted to record the entire Skara Brae excavation on a prototype Etch A Sketch, archaeologists have hunted high and low for the holygrail in trench technology: a paperless device that can take the library to the site and the site to the library in one easy seamless move.
Apple have led the computer industry in innovation for the last three decades, spearheading the digital media revolution with the iPod, iTunes, and since May 2010, the iPad – a product, some would say, that is set to define the future of mobile media and computer devices. But even diggingthedirt, Apple fans that we are, were incredulous when the company announced on their website this week that they had found the answer to our prayers: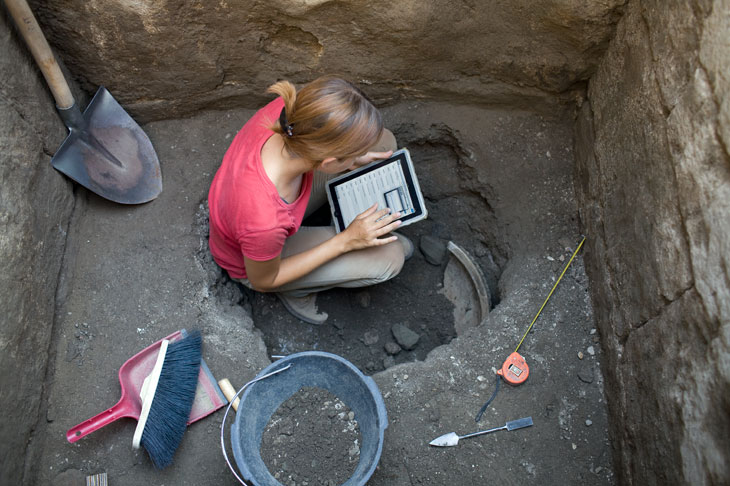 "For Dr. Steven Ellis, who directs the University of Cincinnati's archaeological excavations at Pompeii, perhaps the most significant discovery at the site this year was iPad."
Now, we take things pretty literally round here, so our first thoughts were 'Oh My God! They've found an iPad!? That's going to totally screw up accepted understanding for early Flavian Dynasty Roman technology.' Reading further we realised that 'significant discovery' was marketing speak for 'bought some iPads.' The photo-story continued:
"Ellis credits the introduction of six iPad devices at Pompeii with helping his team solve one of the most difficult problems of archaeological fieldwork…"
…Most difficult problems… Hmmn, what could that be? Hangovers? Soiled Portaloos? STD's? Or perhaps its that age old conundrum:
"…how to efficiently and accurately record the complex information they encounter in the trenches."
So basically doing our job is the most difficult thing about doing our job.
OWKAY THEN!
Marketing guff aside, it didn't stop us marvelling, as we always do, at photos of shiny things in muddy holes. Ellis and his team of 35 are excavating an entire block of Pompeii – a working-class district (modest houses, shops, workshops, and hospitality outlets) that sat in the shadow of to the so-called 'entertainment district'. The iPad is wrapped in a protective, dust proof case, and is used to fill in context sheets, make sketch plans, add to an unfolding Harris matrix, and consult digital photos. This all sounds like standard fare, and perhaps that's the point of issue. We might be falling victim to what sociologists call 'space pen' syndrome…
For much of the 1960's the Soviet Union was locked in a bitter struggle with the United States for dominion of heaven and earth. The business end of the space race was seeing who could be first to play golf on the moon. The public lapped this up by the gobfull, but for those in the know, this was a mere sideshow to the real contest: the invention of a pen that would work in zero gravity. Early spaceships were about as technologically advanced as a dodgy Tesco's shopping trolley, and needed continuous monitoring by spacemen with clipboards to make sure they didn't explode. The Americans spent millions of dollars and years of research, eventually coming up with a roller-ball design to ensure the ink would run freely whatever the atmospheric condition. The Russians, well, they used a pencil.
So back now to the iPad. Lovingly cradled by bronzed archaeologists in sunnier climes, the photos scream 'want one want one want one.' But what's wrong with our trusty pencils? Is this highly desirable new computer really a game-changing device for archaeology?
i-Do, or i-Don't.
You decide…