There was once a time when archaeologists could rebut all criticism of their professional judgement with the simple retort: 'the spade never lies.' Whilst history is written by winners, archaeological excavation reveals the past as it was, unsullied by the duplicitous meaning of words. At least that was the holding line, until Philip Greigson pointed out that even if 'the spade cannot lie, it owes this merit in part to the fact that it cannot speak.'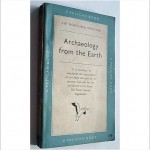 Rising to this challenge, a great number of field archaeologists have written about life and work at the trowel's edge; and of these plentiful books there are a handful that have gone on to influence a generation. From Mortimer Wheeler's Archaeology from the Earth, through to Phillip Barker's Techniques of Archaeological Excavation, and onwards to Steve Roskams in-depth elucidation of the MoLAS excavation manual, occasionally there are pivotal moments when key ideas in excavation are published in a useable form. Martin Carver's Archaeological Investigation ranks as one of those important and influential works.
Drawing on a multitude of examples from around the world, with explanatory photos, plans and maps on nearly every page, Carver has brought his considerable excavation experience to bear on this topic, guiding the reader step-by-step from initial project design to final publication. The book is intuitively divided into four parts, and as the author points out in the preface, this structure mirrors the traditional career path of a life spent in archaeology.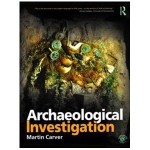 Part 1 returns us to the undergraduate lecture theatre, with a discussion of first principles and how excavation strategies have developed in line with archaeological theory. Those first few tentative steps into the field as a Site Assistant are given clear direction by Part 2: a review of field techniques and the most appropriate circumstances for their application. In Part 3 we are taken through the process of writing up, and the responsibility that comes with supervising or directing excavations, as well as the duty to report our work to varied groups of stakeholders. Part 4 takes the reader into the project design process, covering pertinent issues for decision-makers.
This is an ambitious book mining a lifetime of rich archaeological experience. Prior to his current post as Emeritus Professor of Archaeology at the University of York and editor of Antiquity, Carver set up BUFAU (Birmingham University Field Archaeology Unit), a busy contracting unit focused on development-led archaeology. He has garnered an international reputation as Director of the Sutton Hoo Research Project, in addition to his latest venture excavating the Pictish monastery at Portmahomack, Tarbat, Scotland.
Nevertheless, this book isn't content to trade on the author's impeccable credentials. There's a Big Idea here – a drawing together of key concepts of evaluation, design and embedded interpretation that Carver calls 'Field Research Procedure.' Scholars of excavation theory will know that this value-led system, with its emphasis on design, stakeholders, deposit models, recovery levels and publication, has been described by Carver elsewhere. All the same, this book represents the first time these new ways of doing things have been brought together into a coherent and comprehensive guide.
For a previous generation of archaeologists, the long hours spent getting to grips with a spade were an essential rite of initiation. Today there are many different types of archaeologist, and not all of them dig holes in the ground. Specialisation has brought great benefits to the profession, but a side-effect is that career paths have become increasingly inflexible; colleagues with little field training are regularly required to make difficult planning decisions or monitor work on complex excavations. With this book, Carver points a clear way through the system, doing much to help us all be more fully-rounded archaeologists.
Archaeological Investigation, by Martin Carver
Buy it here…