The usual mix of eccentric oddities, Mix Tape 2 builds to a heavy slab of disco, via brass band classics and Time Team tributes.
Out tonight?
One to slap on, when you're slapping your slap on.

Rancho Relaxo Volume 2 by diggingthedirt
Download this episode (right click and save)
1. Eddie Izzard – A Series of Small Walls
Surreal, rambling, eccentric monologues a specialty. Eddie Izzard turns his attention to Time Team…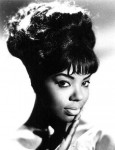 2. Mary Wells – Satisfaction
Mary Wells – The First Lady of Motown – kicks us off in flying form, with a cover the Stones classic: Satisfaction.
3. Ananda Shanker – Jumping Jack Flash
Ananda Shanker takes up the baton with this number from his self-titled 1970 Album. Jumpin' Jack Flash – a cult classic.
4. Mohammed Rafi – Jaan Pehchaan Ho

Mohammed Rafi takes us to Bollywood, with this rock infused monster of a tune.
5. No Diggin Ere
A classic scene from the eerie vintage short-film adaptation of the M.R James Story, 'A warning to the Curious'.
6. Noveltones – Left Bank
This tune originally composed by Wayne Hill in 1963, and performed by a group of session musicians called 'The Noveltones.' Think Tony Hart – The Gallery. Soporific doesn't do justice…
7. Sexteto Electronico Moderno – The Look of Love
1967 – A nightclub in Montevideo and the groovy sounds of Sexteto Electronico Moderno...

8. Milt Buckner – The Beast
From 1956 – Milt Buckner, keyboard player in Lionel Hampton's Big band, rises to the occasion with this from his own short lived band.
9. Martin Freeman – Time Team Spoof


What's wrong with Coventry anyway?
10. The Special A.K.A (What I like most about you) Is your girlfriend
By late 1981, constant touring and 'musical differences' saw The Specials original lineup split. Terry Hall's side went 'Fun Boy Three' whilst Jerry Dammers, founder of the Two Tone label became 'The Special AKA.' 'What I Like Most About You Is Your Girlfriend' became Dammers' last record on the label he set up. Epic.


11. Jona Lewie – You'll always find me in the kitchen at a party
This one recently got an airing on well-known furniture retailers advert, but was originally released on Stiff Records – a 1980 synthpop hit for Jona Lewie. Also playing in the background during The Young Ones episode 'party' …

12. The Young Ones – do you dig graves?
Certainly do.
Alif Tree – A French DJ known for eclectic samples and deep grooves. This one from the Album 'French Cuisine'.
14. Nicola Conte – Arabesque
Nicola Conte, a classically-trained musician and DJ, is best known for his innovative production drawing on Italian film scores melodies of the 1960's, easy listening, and ethnic Indian music.


15. Eddie Kendricks – He's a friend
Lead singer with The Temptations, this solo offering from the 70s hits the spot big time. we're going disco!
16. El Coco – Let's get together
El Coco was a disco group for producers W. Michael Lewis and Laurin Rinder – former 60s and 70s hard rockers, caught up in the Disco scene, this one goes forever….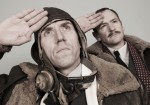 17. Armstrong and Miller – Time Team Spoof
Bang on the money.
18. Grimethorpe Colliery Band – Indiana Jones
This one from the brass band originally formed by coal miners, as featured in the now film Brassed Off. Now that's a good bit o brass!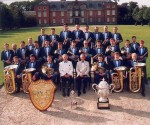 19. Williams Fairey Brass band – Pacific 202
The Williams Fairey Brass Band was involved in Jeremy Deller's Acid Brass project, based on fusing the music of a traditional brass band with acid house and Detroit techno. Amongst other projects, this earned him a Turner prize. here they play the 808 State Classic.
20. Donna Summer – I Feel Love
What else is there to say? She's so hot right now.
Cerrone – a French European disco drummer, singer and music producer born in Paris. Based in Paris, Cerrone recorded, composed and performed his solo debut "Love In C Minor", immediately shocking audiences with its erotic flavour and controversial cover, which was soon to be a Cerrone trademark. That, is a look!
22. Lil' Louis – French Kiss
Lil Louis is the stage name used by Chicago-born house music producer and DJ Louis Burns. His best known song, "French Kiss," featured vocals by Shawn Christopher and spent two weeks at #1 on the dance chart in 1989.


23. Dschinghis Khan – Mouskau
Dschinghis Khan (Pronounced "Jingis" Khan) was a German pop band, created in 1979 to compete in the Eurovision Song Contest. This to finish us off…